When visitors come calling, you always feel the need to not only feed them but impress them as well. One way of impressing your guests is through setting the table. Setting the table for breakfast, however, does not need to be an expensive venture. You only need to use what you have to create the best impression. You can have your visitors relax and enjoy a cup of tea of coffee served with its matching saucer, as well as other nice dishes and silverware.
Below is a guide to help you navigate the sometimes stormy waters of table setting:
You don't need to spend a lot of money
Many people assume that setting a table to near perfection requires a lot of money. On the contrary. You don't have to use fancy dishes or designer dishes, all you need is setting the dishes you have in the nicest way possible. Setting for breakfast is even simpler. You only need a cup and saucer for the hot drinks, a juice glass for the cold drinks, silverware, salad-size plate and a bowl for hot or cold cereal.
Each guest should have their own salad forks, larger spoon for cereal and smaller spoon for stirring the hot drink. Placement is as follows; the salad plate should be at the center of the individual, with the napkin and fork on the left and other silverware on the right. The upper left is the juice glass while the upper right place the cup and saucer.
Make it memorable with proper settings
Having brunch with a bunch of friends and worried that your table setting skills are a bit dull? Well, there is a way you can elevate it to kill that boredom. Simply know the kind of visitors you are having over as they will be of help when making decisions on how to set the table. For instance, if there will be kids, you can have some plastic juice cups that are easy to fit for little hands. You can also play around with the napkins; either have them on the left side of the plate or fold them like a fan, or you can simply place them at the center of the top dish.
Have some serving vessels for items related to the menu
Always have some space, preferably in the center of the table for some servings of items related to the menu. For instance, when setting the table for breakfast, you can have a pitcher of syrup, butter, margarine or jam. You can also have room for an assortment of tea bags, sugar bowl and/or cream. Be sure to label them clearly as some items might look similar.  Do not forget to provide salt and pepper shakers as well.
Include things you rarely use
Setting a perfect breakfast table for your visitors might require you to do things you don't do every day. For instance, you can use some elements that you always reserve for special occasions to make it more special. You can use beautiful tablecloth covers, matching dishes and silverware, a centerpiece of flowers, or place cards on the table to make your visitors feel at home.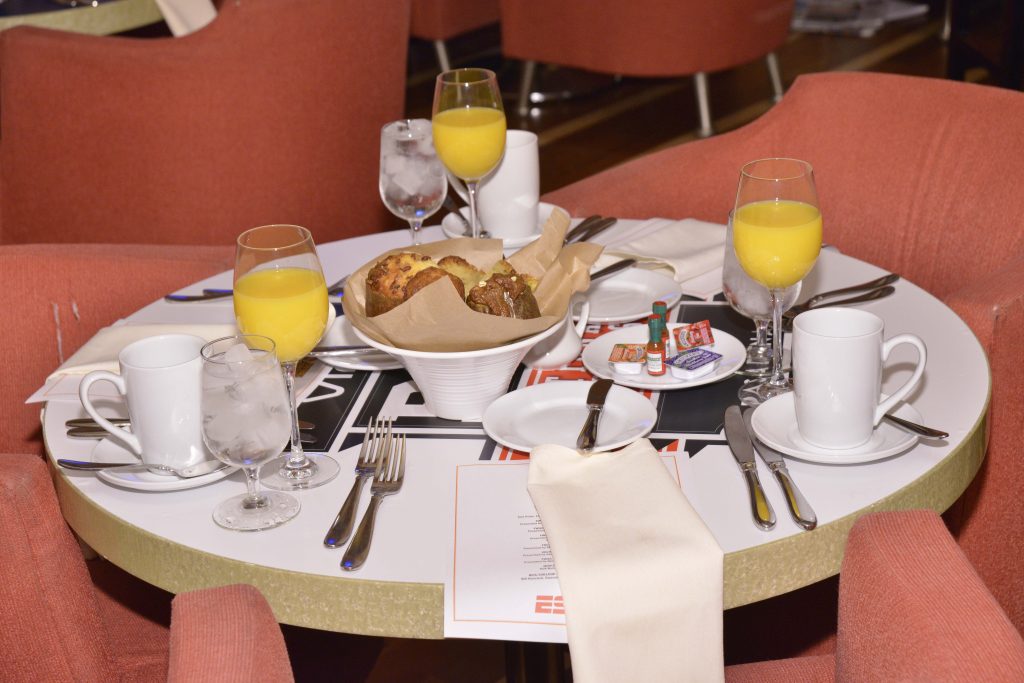 Setting a table for breakfast should no longer be an uphill task, whether you are doing it for your guests or family. The key is to know what you are serving for breakfast as that will help you know how to set the table.